NGADM 2014 | Rules | Auditions | Round 1 | Round 2 | Round 3 | Round 4 | Round 5 | Final Results
---
Hello there, friend!
You've just stumbled across the NGADM Paring & Results List 2014. If you don't know what that is, it's a detailed and evolving map of each group's parings, submissions and results, along with breakdown of individual judges' and final scores.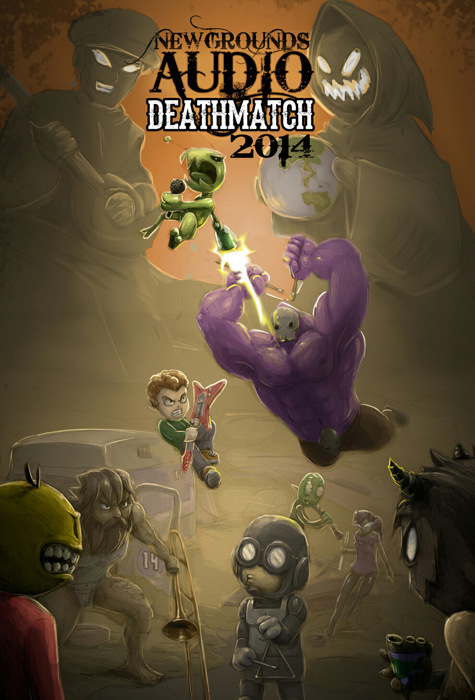 If you have any complaints, comments and/or recommendations, feel free to say so in the comments or by PM, as I try to make this as comprehensive and detailed as a third-party newspost can be without involving spreadsheets.
Anyways, pleae enjoy!
---
AND THE WINNER THIS YEAR IS:
  ▓▓▓▓▓▓▓▓▓▓▓▓ 
 ▓                                 ▓ 
 ▓           garlagan         ▓ 
 ▓                                 ▓ 
 ▓▓▓▓▓▓▓▓▓▓▓▓
Congratulations to everyone who participated, hope you enjoyed this year's scores, see you all next year! :)
\ \ \ \ \ \ \ \ \ \ \ \ \ \ \ \ \ \ \ \ \ \ \ \ \ \ \ \ \ \Previous Rounds Below This Line \ \ \ \ \ \ \ \ \ \ \ \ \ \ \ \ \ \ \ \ \ \ \ \ \ \ \ \ \ \
*~-~ROUND FIVE~-~* 
(Finals)
GROUP A : garlagan vs. SoundChris + Hitokirito
- garlagan: 9.7 / 9.2 / 9.9 / 9.2 / 8.4 / 8.3
AVERAGE: 9.12
- SoundChris + Hitokirito: 9.2 / 8.8 / 9.8 / 8 / 8 / 6.2
AVERAGE: 8.33

WINNER: garlagan
======================
\ \ \ \ \ \ \ \ \ \ \ \ \ \ \ \ \ \ \ \ \ \ \ \ \ \ \ \ \ \ \ \ \ \ \ \ \ \ \ \ \ \ \ \ \ \ \ \ \ \ \ \ \ \ \ \ \ \ \ \ \ \ \ \ \ \ \ \ \ \ \ \ \ \ \ \ \ \ \ \ \ \ \ \ \ \ \ \
*~-~ROUND FOUR~-~* 
(Semi Finals)
GROUP A : garlagan vs. PirateCrab vs. SoundChris + Hitokirito
- garlagan: 9.8 / 9.5 / 9 / 9.7 / 9.2 / 9.35 
AVERAGE: 9.43 
- PirateCrab: 8.1 / 8.5 / 8.9 / 8.5 / 8.1 / 8 
AVERAGE: 8.35 
- SoundChris + Hitokirito: 9.3 / 9.4 / 9.8 / 9 / 8.7 / 8.75 
AVERAGE: 9.16
WINNERS: garlagan & SoundChris + Hitokirito
======================
FORFEIT : johnfn
======================
\ \ \ \ \ \ \ \ \ \ \ \ \ \ \ \ \ \ \ \ \ \ \ \ \ \ \ \ \ \ \ \ \ \ \ \ \ \ \ \ \ \ \ \ \ \ \ \ \ \ \ \ \ \ \ \ \ \ \ \ \ \ \ \ \ \ \ \ \ \ \ \ \ \ \ \ \ \ \ \ \ \ \ \ \ \ \ \
*~-~ROUND THREE~-~* 
(Quarter Finals)
======================
GROUP A : garlagan vs Sequenced
- garlagan: 9.6 / 9.6 / 9.3 / 9.6 / 8.7 / 9.25
AVERAGE: 9.34 
- Sequenced: 9.6 / 9 / 8 / 9.3 / 8.6 / 9.1
AVERAGE: 8.93
WINNER: garlagan
======================
GROUP B : johnfn vs ZipZipper + steampianist
- johnfn: 9.5 / 9.8 / 9.2 / 9.5 / 8.8 / 9 
AVERAGE: 9.3 
- steampianist + ZipZipper
DIDN'T SUBMIT
WINNER: johnfn
======================
GROUP C : PirateCrab vs SkyeWint + camoshark
- PirateCrab: 9.1 / 9 / 9 / 9.8 / 9.1 / 9
AVERAGE: 9.17 
- SkyeWint + camoshark: 9 / 9 / 7.9 / 9.1 / 8.2 / 8.1
AVERAGE: 8.55
WINNER: PirateCrab
======================
GROUP D : PeterSatera vs SoundChris + Hitokirito
- PeterSatera: 9.6 / 9.5 / 8.5 / 9.3 / 8.4 / 8.55
AVERAGE: 8.98 
- SoundChris + Hitokirito: 9.4 / 9.2 / 9.7 / 9.9 / 8.9 / 8.55
AVERAGE: 9.28
WINNER: SoundChris + Hitokirito
======================
\ \ \ \ \ \ \ \ \ \ \ \ \ \ \ \ \ \ \ \ \ \ \ \ \ \ \ \ \ \ \ \ \ \ \ \ \ \ \ \ \ \ \ \ \ \ \ \ \ \ \ \ \ \ \ \ \ \ \ \ \ \ \ \ \ \ \ \ \ \ \ \ \ \ \ \ \ \ \ \ \ \ \ \ \ \ \ \
*~-~ROUND TWO~-~* 
(Round of 16)
======================
GROUP A : Spadezer vs. garlagan
- Spadezer: 8.6 / 8.25 / 8.5 / 8 / 8.2 / 8.25 
AVERAGE: 8.3 
- garlagan: 9.3 / 8.75 / 9 / 9 / 8.8 / 8.75 
AVERAGE: 8.93
WINNER: garlagan
======================
GROUP B : SolarexMusic vs. Sequenced
- SolarexMusic: 8.8 / 8.5 / 9.6 / 7.5 / 8.9 / 7.9
AVERAGE: 8.53 
- Sequenced: 9.2 / 8 / 8.3 / 9 / 9 / 8.9
AVERAGE: 8.73
WINNER: Sequenced
======================
GROUP C : johnfn vs. AeronMusic
- johnfn: 8.9 / 9 / 8.6 / 8.5 / 9.1 / 8.55
AVERAGE: 8.78
- AeronMusic: 9 / 8.5 / 9 / 8 / 8.1 / 8.95
AVERAGE: 8.59
WINNER: johnfn
======================
GROUP D : ZipZipper + steampianist vs. introstalge
- ZipZipper + steampianist: 9.1 / 9.25 / 8.1 / 9 / 8.7 / 9.28
AVERAGE: 8.91 
- introstalge: 9 / 7.75 / 9.3 / 7 / 8.5 / 8.15
AVERAGE: 8.28
WINNER: ZipZipper + steampianist
======================
GROUP E : Kor-Rune + Bosa vs. PirateCrab
- Kor-Rune + Bosa: 7.8 / 8.25 / 8.9 / 8 / 8.7 / 8.2
AVERAGE: 8.31 
- PirateCrab: 9.6 / 9 / 9.1 / 9.5 / 8.9 / 9.05
AVERAGE: 9.19
WINNER: PirateCrab
======================
GROUP F : SkyeWint + camoshark vs Jay-Turner
- SkyeWint + camoshark: 9.5 / 8.75 / 8 / 8.5 / 9 / 9.08
AVERAGE: 8.81 
- Jay-Turner: 8.2 / 8.25 / 8.5 / 8 / 8.5 / 7.75
AVERAGE: 8.2
WINNER: SkyeWint + camoshark
======================
GROUP G : PeterSatera vs. etherealwinds
- PeterSatera: 9.4 / 9.5 / 9.1 / 9.5 / 8.8 / 8.75
AVERAGE: 9.18 
- etherealwinds: 9.4 / 9.5 / 8.6 / 9.5 / 9 / 8.7
AVERAGE: 9.12
WINNER: PeterSatera
======================
GROUP H : SoundChris + Hitokirito vs. Troisnyx
- SoundChris + Hitokirito: 9.5 / 8.5 / 10 / 9.5 / 8.5 / 9
AVERAGE: 9.17 
- Troisnyx: 8.7 / 8.75 / 7.9 / 8 / 8.5 / 8.35
AVERAGE: 8.37
WINNER: SoundChris + Hitokirito
======================
\ \ \ \ \ \ \ \ \ \ \ \ \ \ \ \ \ \ \ \ \ \ \ \ \ \ \ \ \ \ \ \ \ \ \ \ \ \ \ \ \ \ \ \ \ \ \ \ \ \ \ \ \ \ \ \ \ \ \ \ \ \ \ \ \ \ \ \ \ \ \ \ \ \ \ \ \ \ \ \ \ \ \ \ \ \ \ \
*~-~ROUND ONE~-~* 
(Group Stages)
======================
GROUP A : - ZipZipper + steampianist - SonicWombat - InvisibleObserver - Cimba
- ZipZipper + steampianist: 9.3 / 9.25 / 7.2 / 9.5 / 8.7 / 8.5 
AVERAGE: 8.79 
- SonicWombat: 7.9 / 7.5 / 8.7 / 7 / 7.9 / 6.8 
AVERAGE: 7.63 
- InvisibleObserver: 9 / 7.5 / 8.2 / 8 / 7.3 / 6.85 
AVERAGE: 7.81 
- Cimba: 5.4 / 4.5 / 4 / 6 / 5.3 / 5.5 
AVERAGE: 5.17 
WINNER: ZipZipper + steampianist
======================
GROUP B : - PeterSatera - Veneox - KatMaestro + Jrob - PascalPalomino
GROUP B
- PeterSatera: 9.1 / 8.75 / 7.3 / 8 / 8.5 / 6
AVERAGE: 7.94
- Veneox: 8.4 / 7.75 / 7 / 8 / 8.1 / 5.95
AVERAGE: 7.53
- KatMaestro + JRob: 8 / 7.5 / 9 / 7.5 / 7.3 / 5.1
AVERAGE: 7.4
- PascalPalomino: 7.3 / 7 / 6.8 / 5 / 7.9 / 5.6
AVERAGE: 6.6
WINNER: PeterSatera
======================
GROUP C : - SoundChris + Hitokirito - SilverPoyozo - SourJovis - TheBenjerman
- SoundChris + Hitokirito: 9.5 / 8.5 / 9.2 / 8.5 / 8.5 / 8.4 
AVERAGE: 8.77 
- SilverPoyozo: 9 / 8.75 / 9.8 / 7 / 8.6 / 8.05 
AVERAGE: 8.53 
- SourJovis: 8.6 / 8 / 7 / 8 / 5.9 / 6.9 
AVERAGE: 7.4 
- TheBenjerman: 7.6 / 8.5 / 8.4 / 7 / 7.7 / 6.5 
AVERAGE: 7.62
WINNER: SoundChris + Hitokirito
======================
GROUP D : - SkyeWint + camoshark - larrylarrybb - Jernemies - Basset-Hound
- SkyeWint + camoshark: 9.2 / 8.5 / 8.8 / 7.5 / 8.8 / 8.95 
AVERAGE: 8.63 
- larrylarrybb: 8.4 / 7.75 / 7.3 / 7 / 5.7 / 7.9 
AVERAGE: 7.34 
- Jernemies: 8.1 / 7 / 6 / 7 / 4.6 / 7.65 
AVERAGE: 6.73 
- Basset-Hound: 8,2 / 7.25 / 8.2 / 7 / 8.1 / 7.8 
AVERAGE: 7.67
WINNER: SkyeWint + camoshark
======================
GROUP E : - Kor-Rune + Bosa - acmeDyne - CoredxBitch - LunyAlex
- Kor-Rune + Bosa: 9.6 / 8.5 / 9.4 / 9 / 9.4 / 8.8 
AVERAGE: 9.12 
- acmeDyne: 
----- DIDN'T SUBMIT 
- CoredxBitch: 9 / 7.25 / 9.2 / 9.5 / 7.9 / 7.9 
AVERAGE: 8.46 
- LunyAlex: 8.8 / 8 / 8.8 / 8.5 / 7.9 / 7.5 
AVERAGE: 8.25
WINNER: Kor-Rune + Bosa
======================
GROUP F : - JacobCadmus - FlaggedOnArrival - papkee - johnfn
- JacobCadmus: 9 / 8.5 / 8.9 / 8.5 / 7.9 / 7.8 
AVERAGE: 8.43 
- FlaggedOnArrival: 4.2 / 4.5 / 6 / 5.5 / 2.8 / 4.7 
AVERAGE: 4.62 
- papkee: 9.1 / 8.25 / 8.2 / 8 / 8 / 7.65 
AVERAGE: 8.2 
- johnfn: 9.3 / 8.5 / 8.6 / 8.5 / 8.3 / 7.55 
AVERAGE: 8.46
WINNER: johnfn
======================
GROUP G : - PirateCrab - Metallica1136 - Phonometrologist - MattBat27
- PirateCrab: 8.6 / 7.5 / 9 / 8.5 / 8.7 / 7.6 
AVERAGE: 8.32 
- Metallica1136: 8.1 / 7 / 8.1 / 6.5 / 6.6 / 7.4 
AVERAGE: 7.28 
- Phonometrologist: 8.7 / 7.5 / 7.8 / 7.5 / 7.3 / 7.2 
AVERAGE: 7.67 
- MattBat27: 
----- DIDN'T SUBMIT 
WINNER: PirateCrab
======================
GROUP H : - introstalge - RetromanOMG - Cross666 - Chemiqals
- introstalge: 8.6 / 7.5 / 9.8 / 9 / 8.3 / 8.45 
AVERAGE: 8.61 
- RetromanOMG: 9.3 / 7.75 / 7.3 / 8.5 / 7.6 / 7.9 
AVERAGE: 8.06 
- Cross666: 8.8 / 8.25 / 8.2 / 8.5 / 8.6 / 7.3 
AVERAGE: 8.275 
- Chemiqals: 7.8 / 7.5 / 6.8 / 7 / 7.7 / 6.6 
AVERAGE: 7.23
WINNER: introstalge
======================
GROUP I : - SolarexMusic - dexarson - Kabalist - TetratonMusic
- SolarexMusic: 9.2 / 8.75 / 8.8 / 7 / 8.5 / 7.4 
AVERAGE: 8.28 
- dexarson: 8.3 / 7 / 7.9 / 7 / 8 / 7.6 
AVERAGE: 7.63 
- Kabalist: 8.3 / 7.25 / 7.2 / 7 / 8.1 / 7.75 
AVERAGE: 7.6 
- TetratonMusic: 7.4 / 6.75 / 7 / 7.5 / 7.9 / 7.65 
AVERAGE: 7.37
WINNER: SolarexMusic
======================
GROUP J : - etherealwinds - Azhthar - DamienFleisch - Nimble
- etherealwinds: 9.2 / 8.75 / 9.3 / 9 / 9 / 8.9 
AVERAGE: 9.03 
- Azhthar: 7.1 / 7 / 8.1 / 8 / 5.5 / 8.05 
AVERAGE: 7.29 
- DamienFleisch: 9.1 / 7.5 / 9.7 / 9.5 / 8.9 / 9.1 
AVERAGE: 8.97 
- Nimble: 8.3 / 7.5 / 7 / 8.5 / 5.7 / 8.6 
AVERAGE: 7.6
WINNER: etherealwinds
======================
GROUP K : - IglicaV - Spadezer - secantwave - Ceevro
- IglicaV: 8 / 7.5 / 8.4 / 7.5 / 7.2 / 7.35 
AVERAGE: 7.66 
- Spadezer: 8.5 / 7.5 / 8.9 / 8 / 7.4 / 8.75 
AVERAGE: 8.18 
- secantwave: 7.7 / 6.5 / 6.7 / 6.5 / 7.7 / 8.45 
AVERAGE: 7.26 
- Ceevro: 8.1 / 6 / 7.3 / 6.5 / 6.9 / 6.9 
AVERAGE: 6.95
WINNER: Spadezer
======================
GROUP L : - Braiton - BrainLight - TheMoebiusProject (DISQUALIFIED) - Jay-Turner
- Braiton: 7.4 / 6.75 / 7.2 / 6 / 5.9 / 5.6 
AVERAGE: 6.475 
- BrainLight: 7.8 / 7 / 8 / 7 / 6.4 / 5.85 
AVERAGE: 7.01 
- TheMoebiusProject:
----- DISQUALIFIED 
- Jay-Turner: 8.2 / 7 / 8.2 / 7 / 8.2 / 6.9 
AVERAGE: 7.58
WINNER: Jay-Turner
======================
GROUP M : - JDawg00100 - LunacyEcho - DuttonsaysHi - garlagan
- JDawg00100: 9 / 8 / 9.6 / 7 / 7.5 / 8.05 
AVERAGE: 8.19 
- LunacyEcho: 7.2 / 7.75 / 7 / 7 / 4.8 / 6.8 
AVERAGE: 6.76 
- DuttonsaysHi: 8.8 / 8.25 / 8.6 / 7.5 / 7.4 / 6.85 
AVERAGE: 7.9 
- garlagan: 9.7 / 8.75 / 9.2 / 9.5 / 8.2 / 8.2 
AVERAGE: 8.93
WINNER: garlagan
======================
GROUP N : - AeronMusic - Mawnz - MrStr8face - Tosmatobeef
- AeronMusic: 9.3 / 6.5 / 9.6 / 7 / 8 / 8.05 
AVERAGE: 8.08 
- Mawnz: 7.9 / 7.5 / 7.2 / 8 / 7 / 7.6 
AVERAGE: 7.53 
- MrStr8face: 6.8 / 6.5 / 6.5 / 6.5 / 6.5 / 7.25 
AVERAGE: 6.68 
- Tosmatobeef: 7.3 / 5 / 8.7 / 8 / 7 / 6.6 
AVERAGE: 7.1
WINNER: AeronMusic
======================
GROUP O : - Troisnyx - Jimmypig - ChronoNomad - Guylee
- Troisnyx: 8.4 / 8.25 / 7.5 / 7.5 / 7.5 / 7.75 
AVERAGE: 7.82 
- Jimmypig: 8.3 / 7 / 8 / 8 / 7.6 / 7 
AVERAGE: 7.65 
- ChronoNomad: 8.4 / 7.5 / 7.2 / 8 / 7.1 / 8.1 
AVERAGE: 7.72 
- Guylee: 7.9 / 6.5 / 7 / 6 / 5.6 / 6.05 
AVERAGE: 6.51
WINNER: Troisnyx
======================
GROUP P : soulblud - Sequenced - Pandasticality - Acid-Paradox
- soulblud: 7 / 5.25 / 7.4 / 6 / 4.8 / 5.4 
AVERAGE: 5.98 
- Sequenced: 8.9 / 8 / 8.6 / 8 / 8.6 / 8.75 
AVERAGE: 8.48 
- Pandasticality: 8.5 / 7.25 / 8.8 / 7 / 8.1 / 7.8 
AVERAGE: 7.91 
- Acid-Paradox: 8.9 / 7.5 / 8.9 / 8 / 8.7 / 8.8 
AVERAGE: 8.47
WINNER: Sequenced
---
Previous Instances: